I have been day trading for last 3 to 4 years; first started as part-time and now a full time. While day trading, I not only learned the day trading but also a lot about the life overall.
Here is what I learned.
1) It does not matter if a trade(or a day) is good or bad: I was very miserable during the initial phase once I started day trading. I just focused on trading. I stopped focusing on being a good husband, a good father, a good anything. I had nightmares. I lost sleep. I prayed almost everyday, God, please make the markets go in my direction today. But nobody answered my prayers. Then I slowly started realizing good and bad days are bound to happen. Day trading will be the best job in the world on the days I make money and worst job in the world on a bad day. I have no control over it. Deal it the way it comes. Ultimately life is about a million little moments that add up to all the things around me. I cannot let one of those moments have too much control.
2) Say "no": If my trade is not working out, even if my heart wants it to work out, I have to say "no" and cut my losses. I need to decide every moment if this is the situation I want to be in. If it is not working out, don't need to put more time and energy into it. We think it is going to work because we have already put time and energy (or money) into it. But this is just a mental bias. Simply say no to it.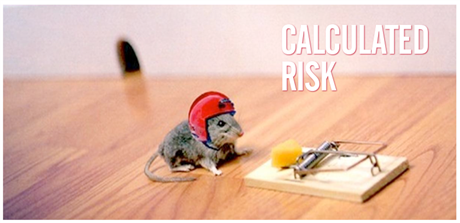 3) Taking calculated risk: There are people who take too many risks and go bankrupt and sometimes people are too cautious and don't take enough risks. When I first started day trading, I was so afraid of risk that if I had a small profit, I would end the trade. In short I was afraid of taking the risk. One fine day it made me realize I can take a risk without any hesitation if I have a better way to deal with that risk and reduce that risk. Once I have a method of dealing with the risk and reducing the risk, it is easier to make trades or decisions about anything.
I learned there are only four probabilities in trading once the trade is taken. It can turn into a i) big loss. ii) small loss. iii) big profit. or iv) small profit. Now I just need to eliminate the big loss as much as possible to remain profitable. Once I do that, small profit will take care of small loss, and I will be left with big profit. This way I developed the right mindset to deal with the risk and take calculated risk.
4) Hoping for something is not going to work: Hoping is not a bad thing. I hope that every day my life goes perfectly. But if hoping is the only thing I am relying on, then it means I didn't really look at all the possible outcomes of something that was important to me. For instance, if I plan my daughter's wedding outside and I don't have a backup plan in case it rains, then I probably mis-planned the wedding. If I get to the point where I hope I don't get ruined then I probably did something wrong beforehand.
I hope every time I take the trade that it earns me profit, but I just cannot rely on that. If it turns out to be a bad trade, I have to accept it and be ready to execute the exit plan.
5) Dealing with uncertainty: Uncertainty is not my enemy. It is going to be there and we don't need to worry about it. I just need to do my work and make sure the uncertainty does not hurt me. That is it.